5 Year Polymeric "Matt" (Window Graphics)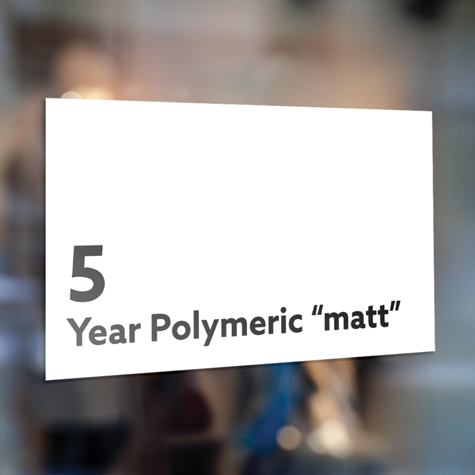 I am the post popular outdoor vinyl (SAV) stock! Perfect for external application on a Window. With up to a 5 year lifespan this vinyl is suited for longer lasting messages. This vinyl has AiRFREE technology, which allows trapped air to be released during application, so no pesky bubble will be seen!

Please note, UV Gel Printing provides a gloss finish
Standard Turn Around: 2 Working days from 12pm cut off

What finishing option should I select?
Cut to size (exact measurements):
If you require a window graphic that doesn't cover an entire area, please select the cut to size finishing option

20mm bleed bottom & right hand side (whole area):
If the window graphic is covering an entire area, from one edge to another, we require an extra 20mm bleed on the BOTTOM & RIGHT HAND SIDE. This guarantees complete coverage & perfect alignment

Die Cut to shape:
Perfect if you are after a unique shape! Learn how to SET UP YOUR ARTWORK HERE .

Standard Cut to Transfer:
The standard cut to transfer process cuts all the components of your graphic out of the vinyl and removes all remaining background, leaving you with just your graphic. We then apply the remaining graphic to a transfer paper to ensure that your positioning is kept. This makes installation a smooth process as all the components of the graphic can be installed at once.

Reverse Cut to Transfer:
The reverse cut to transfer process is exactly opposite to the standard cut to transfer process. Your graphic will be completely cut out & removed from the vinyl, leaving you with the remaining background. This process does not require a transfer sheet as the background remains attached to the original vinyl backing.
Learn how to SET UP YOUR ARTWORK HERE Please use "Kisscut" for both reverse & standard cut to transfer.

We've introduced Square Metre Pricing so we can now offer lowest prices excluding freight!

Looking for Lamination?
Our OCE Colorado produces UV cured Gel Ink unlike standard latex printing. The UV Gel forms an Ultra-thin, extremely durable layer on top of the media creating a scratch resistant layer that needs no further protection. Ultimately, this means that lamination is not needed with our wide format printing!

Please Note: The maximum width size of the media is 1330mm, anything larger than this will be split up through panelling.
Download free templates to assist you in creating your artwork.
| | | |
| --- | --- | --- |
| A3: 420x297mm | | |
| A2: 594x420mm | | |
| A1: 841x594mm | | |
| A0: 1189x841mm | | |
| 800x1200mm | | |
| 800x2100mm | | |